This post is also available in:

Español (Spanish)

Italiano (Italian)
Hello Warriors!
Ready for a new battle? I am sure you are!
It is already two years since our first epic Battle of "Los Alamos" and it is time to get together again to continue winning the fight to Glycogen Storage Disease.
Considering that every year we gather hundreds of warriors, in this occasion, because of public health reasons and within the framework of the pandemic, we prefer celebrating virtually, hoping you are all doing very well and that in 2021 we can meet face to face.
I want to introduce you the "III International Charity Hike, Nina la Guerrera" (Virtual) a new solidarity party in favor of research.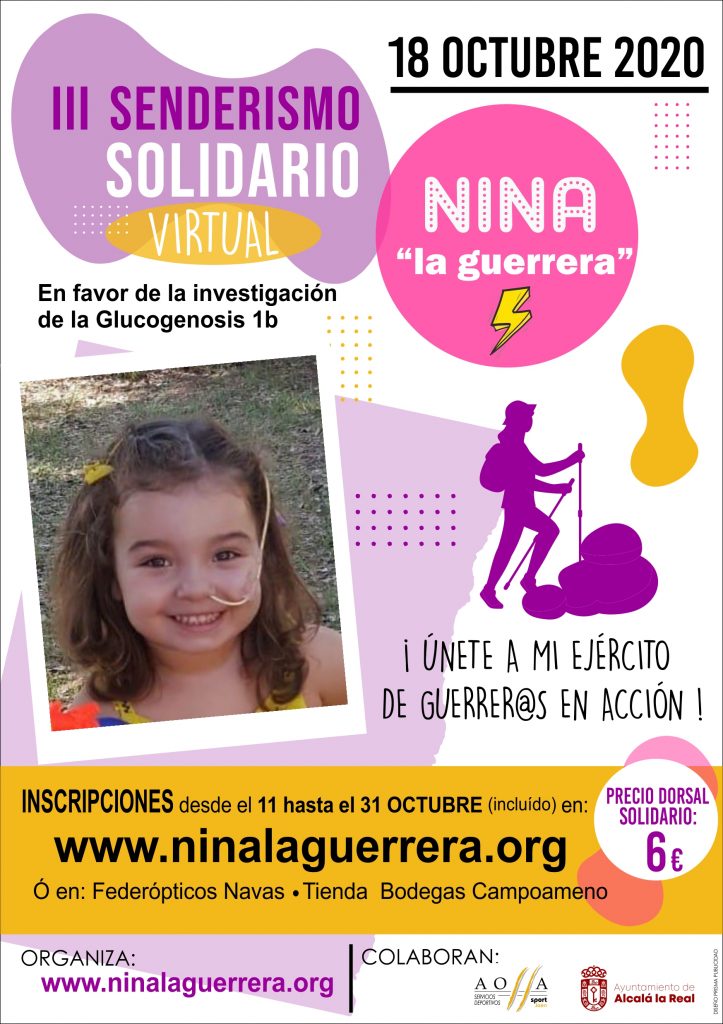 As my third birthday has taken place on October 11th, 2020, this virtual event will remain available in the internet until mid-November. During this period, you can register, buy a charity number and you will get a Diploma via email. It would be great if you could print it, go for a hike, take a picture and send it to us. We could compile all the pictures and symbolically put them together, as if we were gathering.
The 7 USD payment for the charity number to support research can be done through the following link:
Once you have done your donation, please contact us at webmaster.supernina@gmail.com and we will send you your diploma.
Thank you so much warriors for joining us one more time. With a little bit of luck, next year, when I become 4 y.o., we will be able to celebrate, meet face to face and hike together stronger than even towards victory.
In any case, this will be another epic battle that will make history in favor or research.
Millions of NinaHugs
SPONSORS:
ORGANIZED BY:
WWW.NINALAGUERRERA.ORG
COLLABORATORS: