This post is also available in:

Español (Spanish)

Italiano (Italian)

Français (French)
Hello Warriors!
Once more, I have very good news I would like to share with you. Given the excellent results and the important amount of funds we have achieved during the last weeks plus the good prospects we have for the coming months, the University of Connecticut decided to upgrade our collaboration and to create the Nina Contreras D'Agosto Fund for Glycogen Storage Disease type 1b research. You can check it in this link:
Nina Contreras D'Agosto Fund for GSD 1b research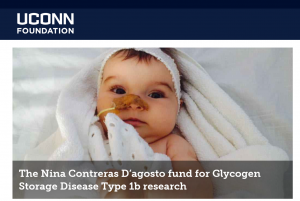 Imagine, such a young baby giving its name to a Fund. I would rather be healthy and not give my name to any fund but given the circumstances I will continue doing my best to keep on moving forward and give hope to all those babies in the same situation.
Thanks a lot for everything! The Fund has been given my name but this is a collective achievement from all of us, from Nina and all her warriors, for the benefit of all GSD 1b patients. Once more, we made it!
A big NinaHug.