This post is also available in:

Español (Spanish)

Italiano (Italian)
Hello Warriors!
Today I would like to continue talking about the W.I.A, the Warriors In Action. In this occasion, about the Italian W.I.A, the "Guerrier@ In Azione"
I have the privilege of being a Warrior with two towns: my Andalusian town, Alcalá la Real, and my Venetian town, Portogruaro, where I was born.
Do you want to know some details about how I was born? I was so comfortable inside my mum's belly, so warm, well fed, listening to all the stories they used to tell me from the outside and to the music they used to play for me… including my grandpa's drums! However, when I started feeling the place was becoming too narrow I decided it was time to move out. I was pushing for around 21 hours… but there was no way to get my head out.
I could hear several people talking, almost shouting, encouraging me and my mum. Suddenly, full silence, and a new door unexpectedly opened… through which they took me out. There was a lot of light, it was a bit cold, I was not sure where I was till I heard my mum's voice and I could feel her close to me. Then they took me with my dad, I could remember his voice so I knew it was him and I smiled. I spent a couple of ours with him till my mum recovered… he never stopped smiling back at me and he sang Sweet Child O'Mine. Looking at the size of his head I understood why mine was too big to get out from where I was supposed to… 🙂 (don't tell him I said this… 😉 … )
The midwives, the Doctors, the ladies in charge of the baby's kindergarden – to whom my parents adore – were my first friends in the real world. I had a very good time with all of them.
Well, I beg you pardon, I keep jumping from one thing to another…. As I was saying, we also have W.I.A. in Portogruaro. One of them is Elena, a therapist that is able to massage hearts. She is a fascinating woman, with short hair, long legs, with a huge heart, who used to teach my mum what she needed to do when I decided to get out. She has an enchanting voice and two big and magic hands with which she strengthen and heal people's bodies and souls. What a huge gift, being able to heal hearts.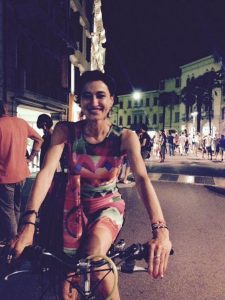 Elena has been following my adventures and misfortunes since I was born and immediately after hearing about my disease she decided to become a W.I.A. Together with another two warriors, Sara and Alessandra, they organized a "Charity aperitif" in a very bucolic place, inside a beautiful medieval neighborhood, called Corcovado, very close to the place where I was born. It was a super nice summer meeting to which we could not attend… although our hearts were fully present and full of joy feeling so much love.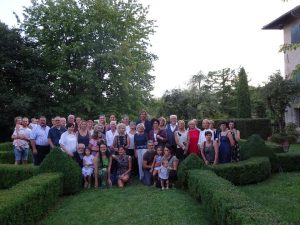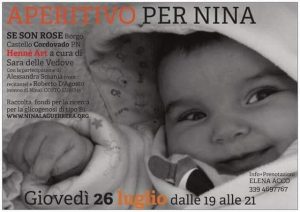 Sara, another "bella donna" with red hair and a very creative mind, displayed her fantasy drawing masterpieces with henna on the participants' skin.
Alessandra, an actress with the voice of an angel, read poems during the sunset and Nadia, a second Mum for my Mum, like my third grandma, also read very beautiful verses.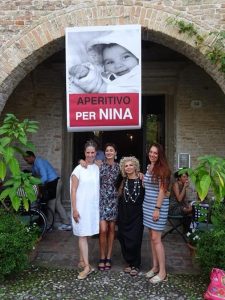 That is not all! There was also music! My grandpa's band "I ragazzi soli" in which he plays the drums. How cool! In a few years I will be playing the drums too… I might be the first drums player with GSD 1b 🙂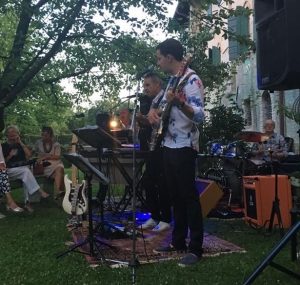 We also had the collaboration of some other Warrios, the members of the Filippo Pescosolido Club who decided to choose me and my cause as one of those that they would support this year, contributing with a very generous donation to support the research.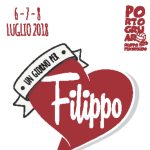 Thank you so much to all of you Warriors! I am still very touched and super thankful for everything you are doing.
To end up, I leave here a text of Tagore that was read during the event:
Day by day I float my paper boats one by one down the running
stream.
In big black letters I write my name on them and the name of
the village where I live.
I hope that someone in some strange land will find them and
know who I am.
I load my little boats with shiuli flower from our garden, and
hope that these blooms of the dawn will be carried safely to land
in the night.
I launch my paper boats and look up into the sky and see the
little clouds setting thee white bulging sails.
I know not what playmate of mine in the sky sends them down
the air to race with my boats!
When night comes I bury my face in my arms and dream that my
paper boats float on and on under the midnight stars.
The fairies of sleep are sailing in them, and the lading ins
their baskets full of dreams.
A big NinaHug.