This post is also available in:

Español (Spanish)

Italiano (Italian)
¡Hello Warriors!
We continue the fight against GSD with more stories from our Warriors In Action, our WIA, in this occasion I would like to talk about "the meditators" mission.
You know what? Those few days that I left the hospital and went to the seaside were some of the best in my life. It was the first time I saw the sea. So huge, beautiful, enchanting… you look at it and forget all the problems. I even forgot for a while about GSD! Although it was not a long break, GSD is always there, and we soon had to measure my level of glucose in blood… but it was a good disconnection anyway.
During my walks along the seaside I was super excited. Plenty of new discoveries: new people, animals, trees, flowers, colours, the sunset, the sunrise, new smells… I was also touching everything I could and my parents were a bit worried about the neutropenia and the potential infections so they were cleaning my hands all the time! I would have also liked to try many new flavors. I am a bit limited in that sense due to my strict diet and the fact that I cannot eat through my mouth, but I managed to try a few new things… Tasty calamari!!!
So well, I was super happy, with my surprise face you can see in the picture below, trying to see everything from my NinaCar, forward, backward, upward… I needed more time and eyes to avoid missing any detail!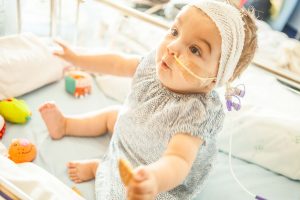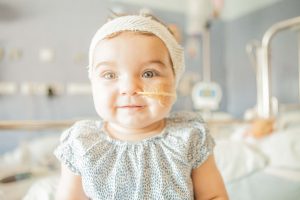 It called my attention the fact that a lot of people were with their heads down. Walking, sitting down, even running or driving, all looking down. I was wondering why people would look down having so many beautiful things around to look at.
We have this word in Spanish "cabizbajo" which could be translated as "crestfallen" or dejected. From my limited baby knowledge, I understood that "cabizbajo" was used for those people looking down because of sadness, worries…etc. However, those guys seemed to be a new type of "cabizbajo" because some of them were actually laughing. I could not understand it.
Later on I realized they had something between their hands. Some kind of device with a screen they were touching with their fingers. Then, again, I wondered, what could be so special about those devices to call so much people's attention, specially considering how beautiful the sea, the sunset, the surroundings were. Maybe I am too young to understand all this.
Anyway, back to our cause, let me tell you about the latest WIA accomplishment:
While so many people rush everywhere with no much time for things that really matter – living in parallel realities through a screen – the meditating WIA took the time for introspection, for mindfulness and for solidarity with those little ones affected by GSD. They organized a meditating session and part of the money raised was donated to promote GSD 1b research.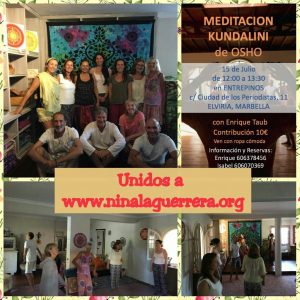 ¡THANK YOU SO MUCH MEDITATING WIA!
Warriors, if you feel like doing a similar activity regarding any other discipline, sport, conferences…etc., please do not hesitate to contact me!
Plenty of NinaHug for all of you and many kisses to my Great aunt Merce, my aunty Laura, Enrique, Isabel and all those meditators that were around 🙂