This post is also available in:

Español (Spanish)

Italiano (Italian)
Hello Warriors!
Today I become eleven months old and you have offered me 25.000 smiles… How great you are guys!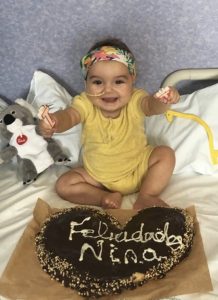 Uish, I am so excited. Next month I become one year old. I am wondering if I will have a growth spurt! In the meantime, two teeth are coming out! Check the picture, you can hardly see them but… Dude, it is painful…. I am not sure what I dislike more, the teeth coming out or the filgrastim shots. I should have been born with two or three teeth already out, as Uncle Jose did, he was already a grown up when he was born! Mamma mia!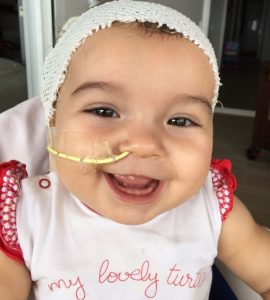 I cannot stop biting things to see if the pain goes away… Biting something cold relaxes me… The thing is that every time I have something in my hand I really feel like throwing it away, I cannot resist, and only after throwing it I realize I cannot bite it anymore… Then I look at whoever is around with a poker face which implies: "Can you please pick it up, clean it and give it back to me?" and, back to normal, I bite it and I throw it away again and again… haha… It is so funny! 🙂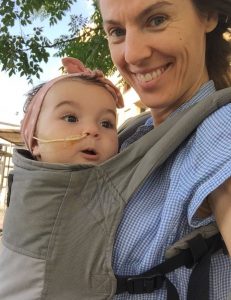 On the top that, you know what? I started crawling! Yes! I love it, I could be crawling for kilometers, I crawl so fast… and I stand up very quickly as well, I still need something to lean on but I am doing very well, with a lot of style. If it wasn't because sometimes I am attached to the pump that feeds me, I would spend the whole day crawling up and down. I have such a huge feeling of freedom… being able to move everywhere by my own. Get ready for Nina!! You will see, soon I will be measuring my level of glucose in blood myself.
Ok, so today we are celebrating, my eleven months and also all the results we have achieved:
We have raised more than 25.000 USD for GSD 1b research in just two months.
More than 210 people have made donations.
The web has been viewed more than 50.000 times and counts with more than 115 subscribers.
The media continued reporting about Nina and her Warriors In Action (WIA), specially about one of our major achievements: the constitution of the Nina Contreras D'Agosto fund for GSD 1b research.
The WIA kept on fighting battles. Do you remember? The embroiderer of dreams, the big little human beings, the meditators, the hearts' therapist, the generous birthday girl, Uncle Adolfo's challenge, the story of the first donor… and our most recent mission which puts together research, solidarity and respect for the environment, the "charity recycling" of plastic caps.
We are also working on many new initiatives about which you will soon have news.
Do you remember the "Charity Wine" by Susana, J.M. and family? It was all sold out!
We kept on encouraging people to become members of the Spanish Association of GSD Patients and several persons registered.
Once more, we lost count on how many times the website and blog were shared in social media!
Go Warriors, we will win!!
¡THANKS A LOT, MUCHISIMAS GRACIAS, GRAZIE MILLE! Thousands of NinaHugs!!