This post is also available in:

Español (Spanish)

Italiano (Italian)
Hello Warriors!
As you know, my two countries – Spain and Italy – have a lot of things in common and one of them is soccer. Today I would like to talk to you about some special Warriors In Action: my Italian fans, my Tifosi Warriors.
I am still not sure if GSD 1b will allow me to play soccer. You need a lot of energy and glucose to play this sport and since my liver does not produce glucose it is a bit difficult to get into a soccer match. Added to that, there is the risk that somebody, or maybe the ball, could hit me in the liver and I could have serious problems. Maybe I will have to think about less intense sports… we will see. These last weeks my main sport has been 10 meters crawling in a mat and now I am starting to grab the bar of my "cuna" and…hop… up and down, up and down, one, two, one, two, I am getting so fit!
Talking about getting fit…. Are you tarining for the I Charity Race and Hike Nina the Warrior. I hope so! Do not hesitate to register! It will be a beautiful day… joining sport, solidarity, health, research, getting together… so many things… and on the top of that there will be presents and surprises. Do not miss it… we already have more tan one hundred people registered! What a party! J
Going back to the issue of sports and GSD 1b let me explain you that, whatever sport I decide to play, it will be very important that I can take and "tolerate" the cornstarch. As I explained in the website, the raw cornstarch can help me to keep more stable glucose levels for longer periods. Being a substance that it is slowly absorbed and digest by the human body, the glucose that I get from the food I take is released and kept in my blood for longer time so I do not go into hypoglycemia so easily.
Actually, I have spent the last few weeks in the hospital and I will have to spend some more trying to introduce the cornstarch. It is a complicated process given that I need to take the cornstarch raw and being such a young baby with a sensitive stomach and intestines, you can imagine how hard it is. We need to go little by little, increasing the amount of cornstarch in small quantities… gram by gram, week by week, as long as my body is tolerating it well.
I have to reach 15 grams of cornstarch per meal. Let's see if I manage. A few months ago I already tried to introduce the cornstarch in my diet but I got an infection right in the middle of the process which led to one of those terrible emergencies I have already talked to you about, so we had to stop the whole thing and then start from scratch. We are now going slowly slowly and there are good and not so good days… if my intestines get tired and swollen I get into hypoglycemia faster. A few weeks ago the glucose level went down to 20 (it should be between 70 and 100, do you remember?) My body was cold and I was shivering. But I got dextrose 10% through the nasogastric catheter and I reacted well… although I had some crazy days as a result of this episode.
Right now I am at 7 grams of cornstarch. We do not see very good results for now, to be honest, but we really hope that this will improve in the coming weeks when we get closer to the goal of 15 grams. As a good Warrior, I will continue fighting and with all your support I am sure we will get there at some point.
Magaly "The Professor" is the Mum of a girl who also has GSD 1b. She knows many things and she is helping as a lot. One day she told us that her daughther has more stable levels of glucose in blood when she is happy and laughing… I am very good at that so I hope I will get better in the coming months! 🙂
Well, so you see how my ADD and myself have not changed at all. Jumping from one subject to another… I acutally wanted to talk to you about my Tifosi Warriors to let you know that following the publication of an article in the Italian media about my case, my cause and my disease, the fans of the Venezia soccer team "Curva Sud VeneziaMestre" decided to become Warrios In Action and join our cause.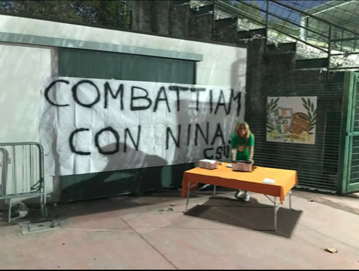 During the match Venezia – Benevento, which was played on September 14th, Nina the Warrior's flag was display in the stadium, they set-up several points for fund raising, the speaker of the match talked about our cause and… …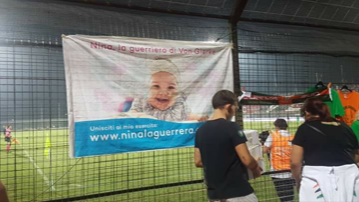 …The best part… the "rival" team joined them to support the initiative. They made a very nice banner which said "Nina non mollare" "Nina do not give up". I believe it is beautiful that two "rival" group of fans came together to support our cause and that people from both teams decided to become Warriors In Action.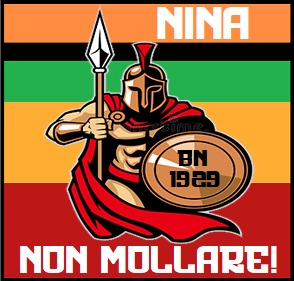 Human beings have a lot of things in common and the things that keep us together are many more –and more beautiful- than those that keep us apart. Let's focus on the first ones… good things are contagious.
A huge NinaHug.