This post is also available in:

Español (Spanish)

Italiano (Italian)
Hello Warriors!
Today I want to talk about one of the most special days in my life: the day I met Doctor Weinstein.
October 11th, 2018 was already marked in our calendar as a very important date for my whole family. It was my first birthday!
The truth is that I am very privileged and during my first year of life I have had not only one birthday but also eleven more celebrations, the 11th day of every single month 🙂 I spent most of these parties in the hospital but we had a good time anyway… family, presents, decoration… The full package! Plus the visits of Doctor Sapofrita, Doctor Cambembo and the Entrelibros (Amongbooks) Association. We have such good times here!
As I was saying, everything indicated that my first birthday was going to be ver special but nobody could imagine the huge surprise and the such a nice present I was going to get.
One day before my birthday, still feeling an endless joy because of the epic victory in the Battle of Los Alamos I suddenly saw my Mam and Dad jumping out of happiness.
I still cannot jump. I stand up in the mini-park or in the cradle and I can take a few steps to the side with a lot of style but I cannot jump yet. However, I can backsidejump… It is super fun and I do it so well. Sometimes I can even move from one place to another backsidejumping. So when I saw my parents jumping I joined them backsidejumping and laughing. Even if I did not know what we were celebrating… If I see people partying I just join!
So all this happened because my parents got an email from Doctor Weinstein saying that we could meet in Granada. Dr. Weinstein's wife, Doctor Geraldine, is a dentist and that same day she was giving a conference in the Faculty of Odontology in the University of Granada. I do not know if you believe in coincidence or not but… Can you believe that Doctor Geraldine had this conference in Granada precisely the same day of my birthday? I love serendipity!!! 🙂
So Dr. Weinstein – despite how busy he is with hundreds of patients and with the ongoing research – did not hesitate to accompany Dr. Geraldine so that he could spend some time with me as well.
That morning we were all super happy. We arrived to the Faculty with the NinaCar a bit before Dr. Weinstein. When I saw him arriving it was impressive: he was not alone, he came with a big smile, a giant heart full of kindness and with MAX, a huge teddy bear who immediately became one of my best friends. It is super soft and it is so nice to fall asleep on the top of him.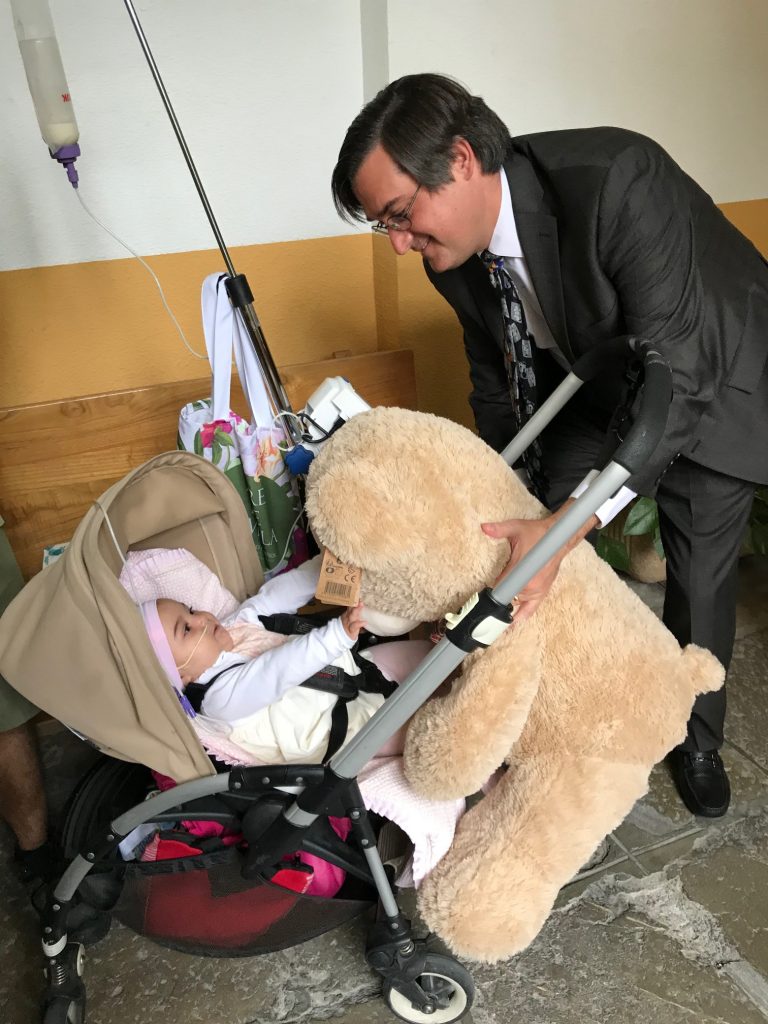 Not only Dr. Weinstein made the effort to come to Granada to meet me and celebrate my birthday together but he also brought me a very nice present and spent several hours with us, with a lot of patience and no hurries at all. During that time he gave us plenty of very useful advice not only from a medical point of view but also from a personal one.
Dr. Weinstein does not like promising things he cannot achieve. However, he told us that with proper care I will be healthy and I should not have limitations. Yeah! Two more presents: plenty of joy and hope.
Apart from all this, we also had the occasion to talk about GSD 1b research. He told us the latest news that I really want to share with you in the coming posts in the blog. He also asked us to thank all of you Warriors. He is very thankful and impressed for everything you are doing and he appreciates very much your support to the research and to raise awareness about GSD 1b.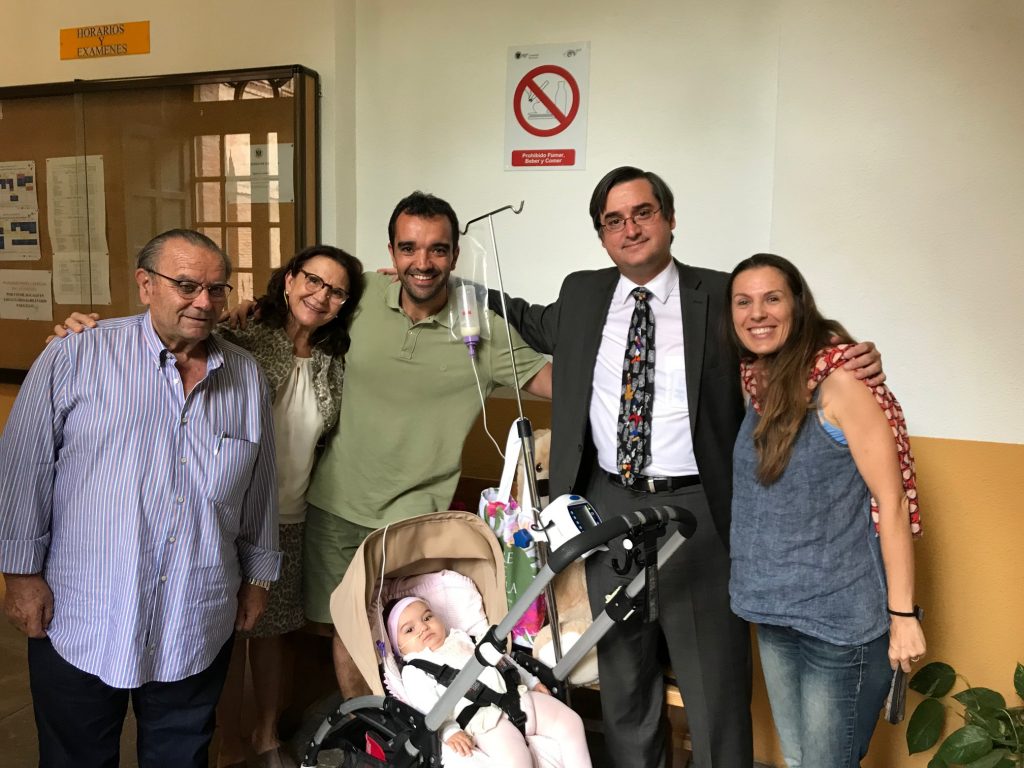 Meeting him was an unforgettable experience. He is not only an excellent professional but he also has a huge heart and he is a super kind person. He is, literally, the best in the world in what he does and, despite that, he is very humble and approachable. Can you imagine if every leader in the world was like that? I hope that will happen some day.
Listen, we read that before he was working on GSD, there was no significant research about it and therefore no hope. When he attended his first GSD Conference… Do you know how they started the conference? They had a moment of silence and then they read the names of all the kids that died that year because of this disease. All those little Warriors who could not live enough to raise an Army of Warriors In Action, to meet Dr. Weinstein, to be treated and controlled properly.
Some parents told me that these kids are remembered as "The GSD Angels". I feel sad thinking about them. I would like to think that they are doing well now and that they send us strength from wherever they are so that we can move forward. All of us, GSD Warriors, must feel lucky about being born in a time in which GSD and its treatment is better known and when there is an ongoing research.
The vocation, professionalism and kindness of Doctor Weinstein has saved many lives and has filled with hope many others. I would like to send him a huge NinaHug. To him and to his wife, Doctor Geraldine, another excellent person who did not mind at all waiting till we could finish the meeting with his husband. She was always smiling… I love that! What a beautiful couple.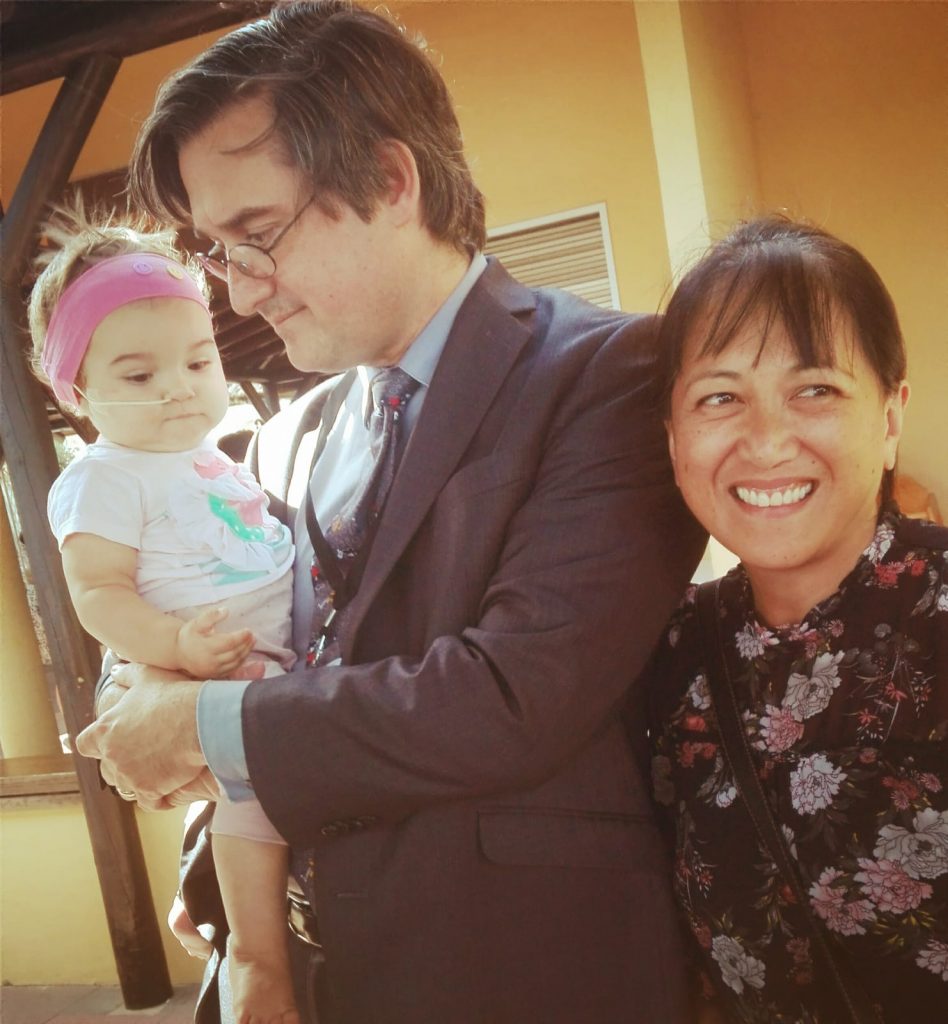 When they left I felt like floating with the NinaCar in a Ninacloud 🙂 From there, I went to see my family and continued celebrating the birthday. It was a fantastic day. They sang happy birthday for me and I remembered a lot the day in which hundreds of you, Warriors, did the same for me in the battle of los Alamos. What a chance having two super nice birthday celebrations!!
Doctor Weinstein, you are a Warrior, you are my hero, I love you!!
Millions of NinaHugs for you all.