This post is also available in:

Español (Spanish)

Italiano (Italian)
Hello Warriors!
As you know, last February 9th we celebrated the "Nina the Warrior" Flamenco party in which many warriors joined their solidarity with the passion they feel for Flamenco to support our cause and continue raising funds for GSD 1b research.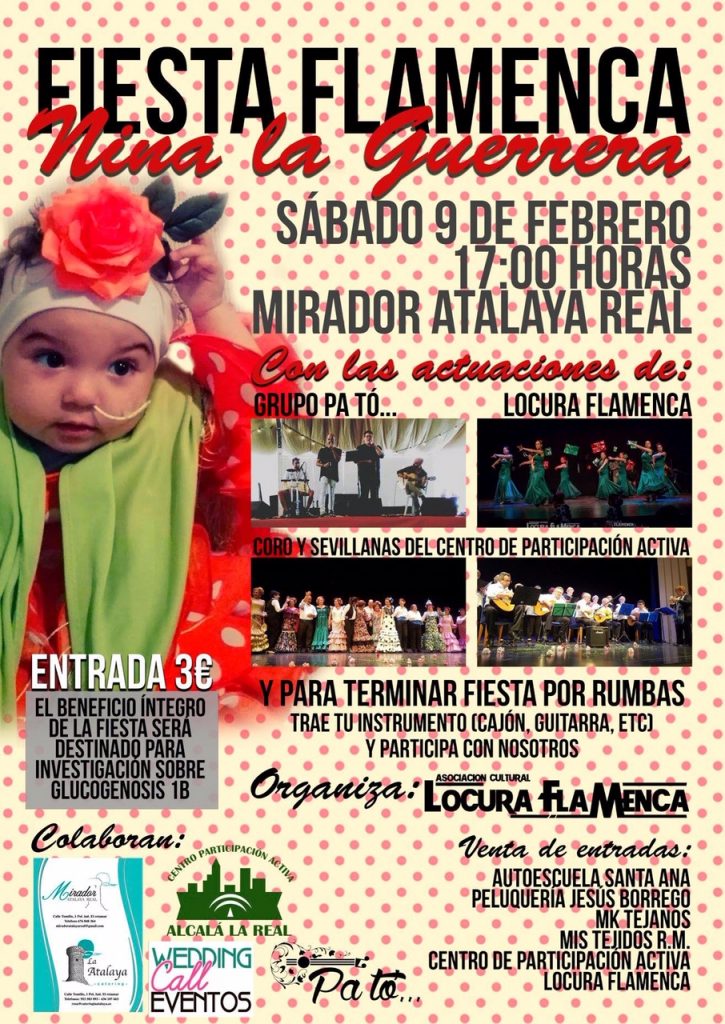 The Cultural Association "Locura Flamenca" organized this super party with the performances of PA TO', Coro & Sevillanas Centro de Participación Activa and Locura Flamenca as well. To all of them…. Thanks a lot!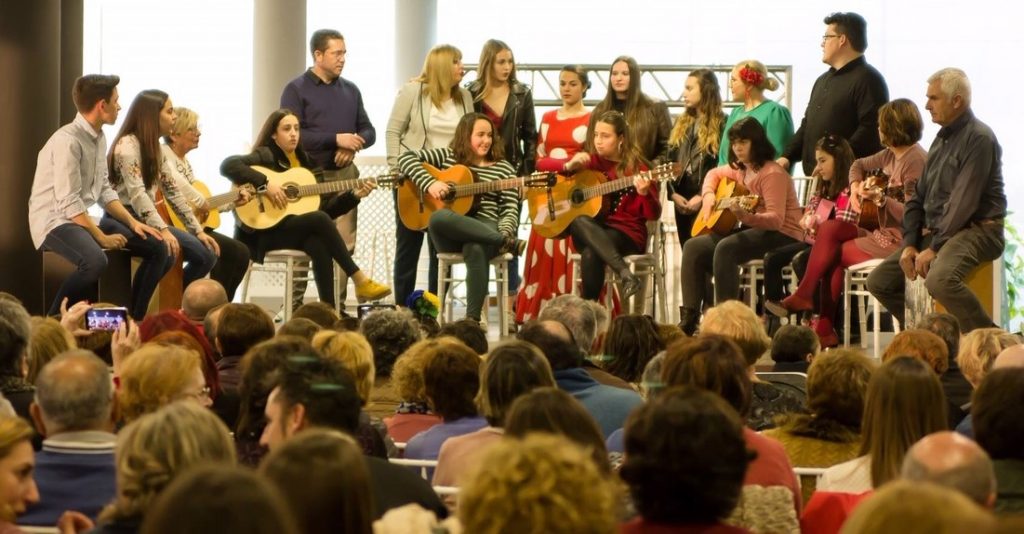 As soon as I can, I will join "Locura Flamenca", I really feel like learning… dancing, singing, playing the guitar, the drums… Yeah!! They told me they have very good times and they are super good people and professionals. On the top of that, I already have a Flamenco artist name… Nina "The Warrior" 🙂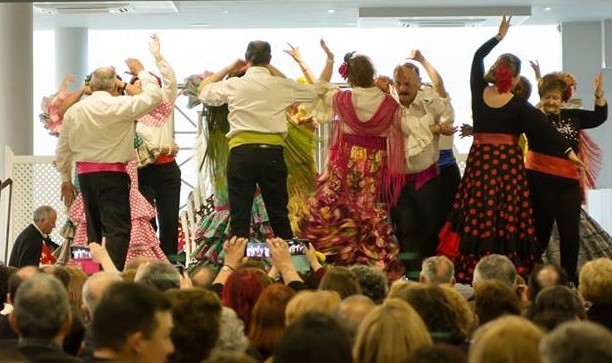 We are also very thankful to all those who collaborated such as Mirador Atalaya Real and Wedding Call Events, and to all those locations where they sold tickets: Auto-Escuela Santa Ana, Peluquería Jesús Borrego, MK Tejanos, Mis Tejidos R.M. and, once more, Locura Flamenca and Centro de Participación Activa.
Once more, I could not join such a nice fundraising event… although my heart and soul were there! As you know, my immune system is not working properly: I do not have as many neutrophils as I should and those that I have do not work properly. I have to be very careful not to be exposed and I have to avoid being in closed halls with a lot of people, especially in winter.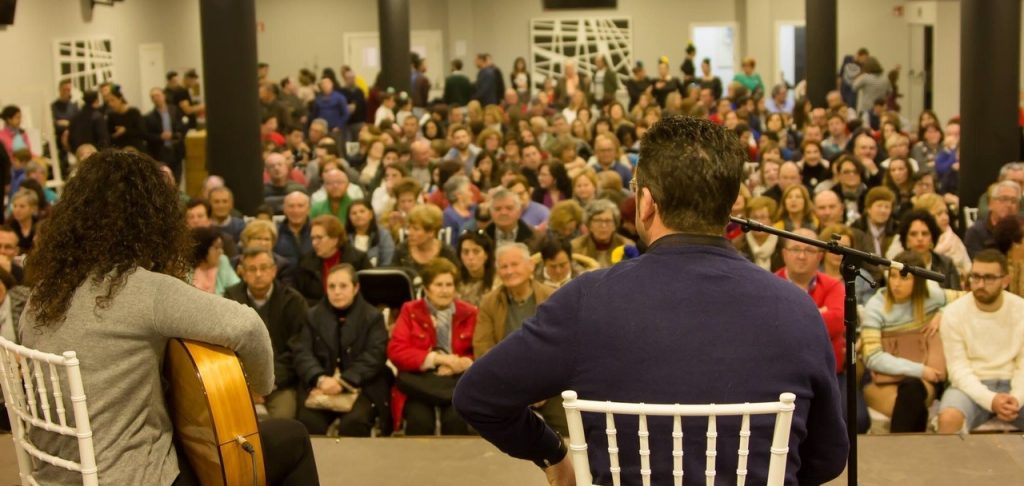 This year, unfortunately, I have already had several infections, including one otitis. The good thing is that I am fighting and overcoming them as a real Warrior. Added to that, none of these infections affected my digestive system (which are the worst kind of infections because I stop absorbing glucose and I can easily go into a coma) so, for now, we have spent a few months with no serious emergencies such as those tat I suffered last summer. I still do not know how to cross my fingers so please do it for me…. 🙂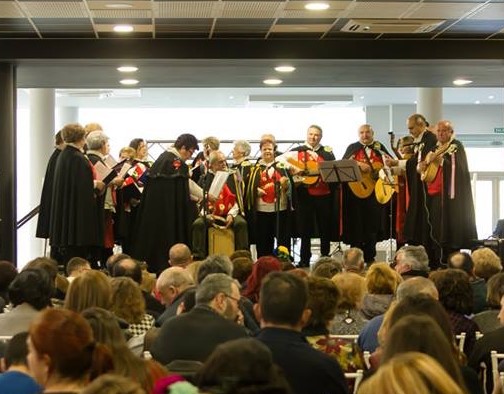 This initiative was very special to me because as I have said many times I love music, it makes my soul happy. As soon as I hear some music, I start shaking my little body 🙂 My Mum used to do classic and contemporary dance and I am sure I got part of that. Also, when I was inside my mum's belly I started listening my Italian grandpa, il Nono Roberto, playin the drums, practicing for his concerts with his band "I Ragazzi Soli".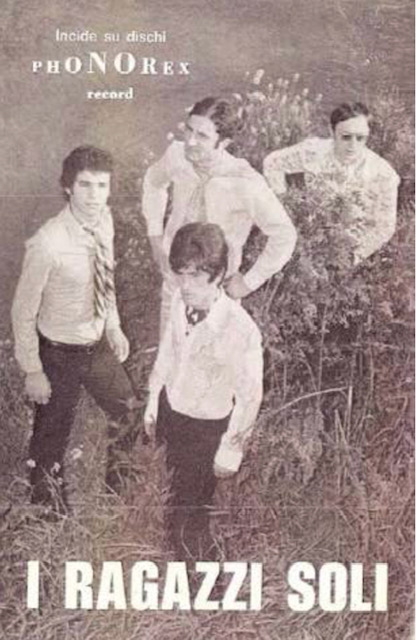 And, look, my other grandpa, el Abuelo Enrique, he also loves music, he carries the flamenco in his veins:
OLÉ my Grandpa! 🙂
I am so happy listening to him. Being Andalusian and Venetian I carry art in my veins as well. Especially the Flamenco.. so watching these videos I just learned what it is to have goose bumps.
Finally, to close such a nice party, I let you here a little performance in which I do the backing vocals for the song "Achilipú"… "APU"…. "APU… 🙂
We have won another battle Warriors. Thanks a lot for everything.
Millions of NinaHugs!! 🙂